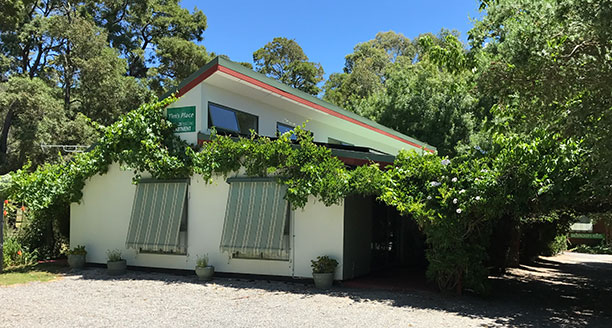 TIM'S PLACE BACKPACKERS & HOSTEL
Tim's Place is a small, friendly Backpackers Hostel which offers seven bedrooms for guests. Single, Double, Family or Shared rooms with or without ensuites are available. The kitchen and living areas are very cosy and homely.
All linen and towels are provided with all beds made up with doonas. The hostel is warm in the winter and cool in the summer.
Guests have free plunger coffee / tea, free WiFi, free bikes.
Suitable for singles, couples, families, groups, backpackers. A great place to be active or to just chill out in the bush.
Tim's Place Hostel is now Dog Friendly!
Tim's Place is offering a bedroom with yard and dog kennel to guests who would like to bring their dog on holiday with them to the Grampians National Park. Guests have a lovely north facing bedroom with a double bed and a single bed with a verandah, table and chairs in a fenced yard ( 8m x 2m ). It is a very private room and the kennel can be placed outside the glass sliding door. Guests must bring bedding for their dogs and the dogs are not allowed into the bedroom.
There is no charge for the dogs and guests pay normal rates. Dogs must be on a lead outside the yard. Tim's Place looks forward to having you stay with your dog.
Rates: (minimum 2 nights stay)
Dorm room (Max of 3 beds): $32 per person per night
Single room: $60 per night
Single room with ensuite (Room 6): $70 per night
Double room: $80 per night
Double room with ensuite (Room 6): $90 per night
Triple rooms: $32 per person per night
Triple room with ensuite (Room 6): $105 per night
Family rooms (Double bed, Bunk bed, 4 people): $120 per night
Family rooms with ensuite (Double bed, Bunk bed, 4 people): $130 per night