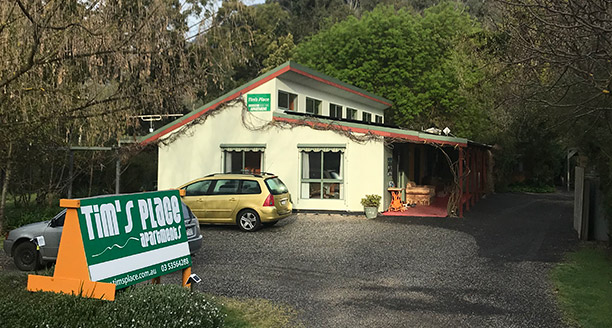 TIM'S PLACE BUDGET ACCOMMODATION IN THE BUSH
Tim's Place Budget Accommodation in the Bush offers 2 bedrooms in a garden setting. The first bedroom has a double bed and a bunk bed, the second bedroom has a single bed and a bunk bed. It can sleep up to 7 people.
The 2 bedrooms have been recently refurbished and have modern, tubular metal beds, 200mm innerspring mattresses, all linen and towels are supplied. The floors are smooth concrete and have recently been painted. This style of accommodation has been designed to stop the ever present threat of Bed Bugs which affect 15% of accommodation venues in Australia from 6 star through to Budget accommodation. After 15 years using this style of accommodation Tim's Place has not had any infestations of Bed Bugs.
The kitchen is in a retro style caravan beside the 2 rooms. The caravan is comfortable with the standard 800 mm high benches, an internal ceiling height of 2 metres, a fridge, a stove, toaster, electric kettle, free plunger coffee/tea.
The outdoor sitting area with table and chairs is beside the caravan under a roofed pergola. There are also many tables and chairs in the garden. These areas are for your use should you decide to have meals at Tim's Place. There is no inside dining areas. The toilet and shower are 20 metres from the rooms. They are private and for the guests exclusive use.
A table tennis table and 2 bikes are available for the guest's use. Tim's Place is centrally located to all the hikes in the Wonderland region of the Grampians National Park. Tim's Place is 600 metres from the centre of the township of Halls Gap where there are numerous cafes and restaurants. Tim's Place guests also have the use of a community garden in the park beside the Apartment. Fresh eggs from the chickens are also available.
Kangaroos visit the property daily.
Guests please note this is a Budget accommodation option. Luxury it is not!
Rates: (minimum 2 nights stay)
One or Two People: $100 per night
Extra People: $30 per person per night
Weekly discount: 15%.